Hello community! We're bringing you another update on the progress towards Step v3.0.0. With this update we wanted to give the community an insight into the development of v3.0, so to better show the progress being made and how things are going to work.

Coming soon …

New Server & Hosting
We have purchased a new test server under a new host with plans to stand up a new production server once we have completed our software development and migrations under 'test'. The development process began several months ago, and we are well into development at this point. Please read on for more detail.

Forums & Wiki
With the generous community donations we received last September, 2017 from our campaign drive, we have purchased a long-term license for IPS Community Boards v 4.x. These donations have also supported our hosting expenses as well as costs we will incur as we build up our new test and production servers. At present, we have migrated our current forum community to the test server and are in the process of testing our upgrade path. Under STEP 3.0, we will no longer be using a wiki but rather a custom CMS solution (see below). For those authors hosting custom guides on the wiki, we will allow time for them to move their content from the wiki into the new CMS (details TBD).

CMS
Mod Picker creator, Mator, has lent us his expertise in developing an entirely new mechanism for serving up the Step Guides and Packs. A new custom content management system (CMS) has been under development since April, 2018 . This solution will be much more efficient for the purposes of building and maintaining high-quality Step Guides and modular Packs using Mod Picker integration. Additionally, the new CMS will support custom Guides and Packs developed by members of the community, just like we do today with the wiki. Improvements include:
A convenient custom editor interface for Article/Guide/Pack creation
Ability to dynamically request meta-information on mods from Mod Picker data sources
Faster editing (due to much reduced overhead of the CMS relative to Semantic Mediawiki)
Responsive design that scales the website for optimal viewing on any device
Otherwise, Step 3.0 should function very similarly to the community experience today … only better.


Guides under Step v3.0

Mod Picker and Step
First let me answer for the community how Step decided upon Mod Picker's use... Step's current solution for managing our mod list is Mediawiki. Our use of the wiki in this way is outside the boundaries of how it's meant to function. Because of this, we're overtaxing the wiki software and server. We needed to come up with a new solution.

Our original idea was to find a "pro bono developer" to design what we needed and this led to Mator. When describing what we needed, Mator brought up the idea of using Mod Picker and its API to serve our needs, since the mod lists feature of Mod Picker is basically what we needed for part of the back-end framework. After testing the service out, I (Tech) decided that, if the API could handle all or most of the mod list data, then Mod Picker was probably our most viable option. With this information, I pitched the idea to the other project administrators. When S4N never returned, Z and myself decided to move forward, as long as we could get Mator's help in developing our front-end and in using his API. Mator agreed and that was how Step came to use Mod Picker and how Mator became involved in development.

So what is Mod Picker doing for Step?
Step is exclusively using Mod Picker to manage the mod lists, for the guides we produce, and to allow users to create Packs.

How are the mod lists managed?
The management of the mod lists on Mod Picker is a similar process for staff as it was on the wiki. We still add mod pages to Mod Picker, when needed, as we would on the wiki; however, we have the added benefit of other users also submitting mod pages to the site, which can speed up the process. We still design and set up the mod lists as we would have on the wiki. We can also still define install options and provide specific instructions, when needed. Overall, Mod Picker is providing much of the same managing functionality as we had on the wiki. Mod Picker is simpler to use, though, because it's a more streamlined process.

That's great and all, but does that mean I'll have to use Mod Picker now to use the Guides?
No, not at all! We are using Mod Picker for our mod list management, however, we'll be using Mod Picker's API to transfer the mod list data from Mod Picker to our new custom CMS, aka website. You'll never have to leave the Step website to use the Guides!

So you mentioned something about Packs…
Using Mod Picker as a platform allowed our idea for a "pack system" to be realized. Again, the wiki was a bad choice of for this system. Mod Picker, however, provides a feature of "cloning" a mod list, which copies a mod list in its current state to create a new mod list. This feature is perfect for Packs to be created and designed as they were always planned to be; by using one of our "Core" guides as a foundation for the Pack.

How do I create a Pack?
Creating a Pack is the only aspect that requires users to have a Mod Picker account. This is required because Mod Picker is used to manage our mod lists and to create a Pack requires users to manage their own mod list using the same platform. Users can sign up here. It's free! (https://www.modpicker.com)

Creating a Pack with Mod Picker is very simple. Users simply have to "clone" one of our "Core" guides to create their own mod list. Users will then use their new mod list to design their Pack. This allows the user complete freedom and control over their own Pack design and management, while benefiting from the use of a "Core" guide, since these guides' purpose are to be a solid foundation for users to build upon.

How will users install my Pack?
"True" Pack Authors will be determined on a case-by-case basis. The pack system on the wiki is used far too liberally and not for its intended purpose. Because of this experience, official Pack Authors will be required to meet some minimum requirements, which have yet to be decided upon. The requirements purpose is to ensure Pack Authors meet our standards and are actually creating Packs, as defined by Step. The requirements are likely to be based around maintaining the Packs.

I mention the above to answer this question by saying, Packs will also be provided to users from our new website. Thus, we will be looking for higher quality content when making decisions on whether or not a Pack will be posted on the site. Users should think, "what is my Pack bringing to the table, that others aren't?" If the answer is, "just a few texture changes", that Pack is not likely to make the cut.

STEP:Core - Mod List
The STEP:Core mod list has been completed for v3.0.0. This means all the Extended mods have been removed from it, thus only hosting "core" mods. The only changes still being made are a few minor fixes, when found, and the adding of new mods as they become available. This means this mod list is ready for deployment via Mod Picker's API to the CMS.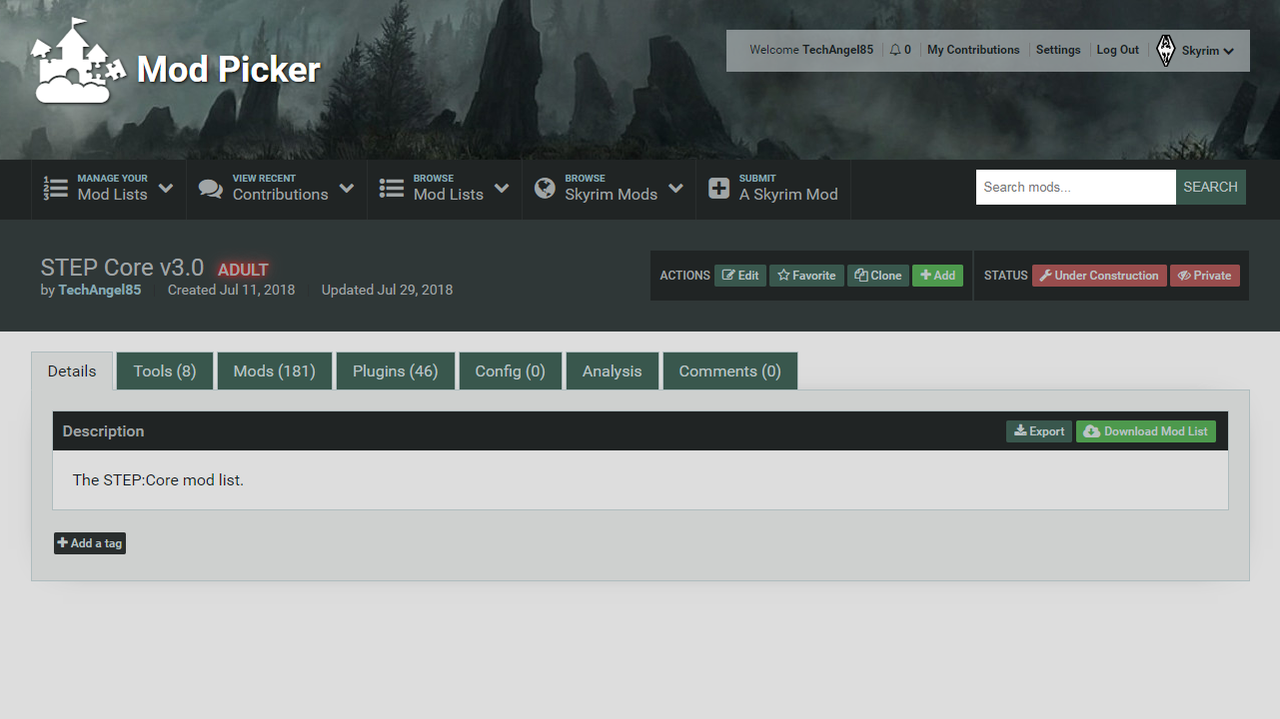 STEP Extended Pack - Mod List
The STEP Extended Pack is the fulfillment of our new direction. The Extended Pack is our official Pack and guide for Skyrim LE. With the separation of the STEP:Core mods and Guide, we were finally free to take more liberties in what the Pack offers to users. This includes a new Lighting & Weather section, which has its own patch to maintain customization. Users can either use our choice of Lighting & Weather mods, or roll their own! ...because options are good!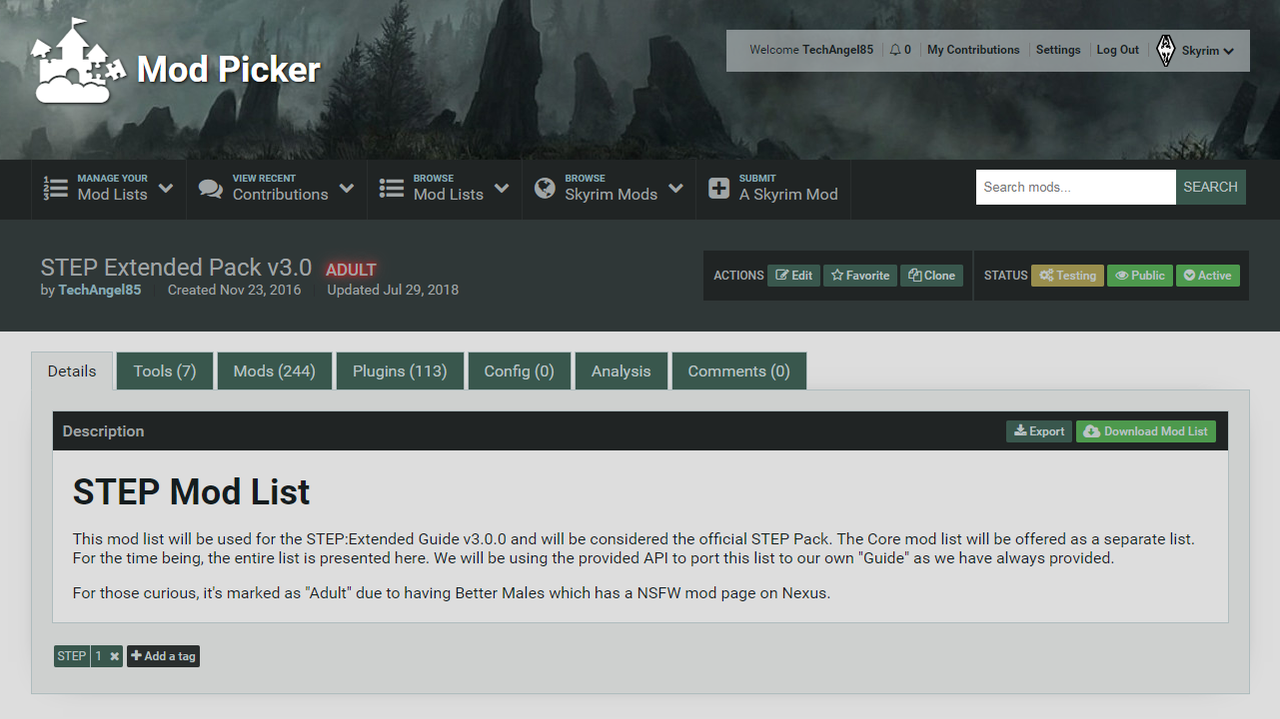 Please feel free to discuss and ask questions below.