Chris Roberts started his latest game, Star Citizen, with a Kickstarter and it just kept going, here's their funding tracker.
This space simulation/MMO looks really immersive , engineered for balance and supports its community.
Speaking of community involvement, they are producing their own modders competiton, The Next Great Starship where teams from the community compete for the chance to design a new starship asset for inclusion the game. Check out previous episodes for the competition itself, the most recent is a teaser for the upcoming Alpha Release Dogfighting Module.
Believe it or not, this website is for a pre-alpha community funded effort. That in no way means the various divisions, from Santa Monica to Toronto to Manchester, aren't hard at work creating something truly amazing.
Fantasy roleplay fans may not think a space sim is for them, but I challenge you to check it out and decide for yourself, there really is something for everyone here.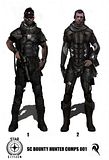 If the following advert videos don't grab you by the viscera and make you want to know more, I'm at a loss
Aurora LN commercial
Hornet F7C "Domestic emergency" commercial
Freelancer above, 300i "Speed" commercial
Edited by redirishlord, 04 April 2014 - 03:22 PM.